Enilit CMS – The Basis for Building Modern-Day Industrial Control Systems
Enilit Configuration and Management Software (CMS) simplifies the communication between industrial devices and client applications. The software acquires, processes, safely stores, and sends data and commands via different communication protocols and can be connected to a large number of Intelligent Electronic Devices (IEDs), as well as any requested client software (e.g. cloud solution), which helps to efficiently integrate the required number of industrial devices into one large network and create a fully or partially automated systems.
Enilit CMS ensures a seamless, secure, and reliable flow of information among devices from multiple vendors and is continuously updated following the latest technological advancements.
Maximum Reliability with Server Redundancy Configuration
CMS allows creating multiple data servers that work redundantly. In case one data server would go offline, data from connected devices would still be collected and stored by the redundant servers and would be available for end-users.
Client-Oriented Custom Solutions
The highly flexible inner workings of CMS could be extended to satisfy the needs of any client. Extra functions could be added, or changes implemented upon the risen requests.
Wide Utilization Possibilities
Due to the increasingly expanding demand for industrial control systems, Enilit CMS has wide utilization possibilities. Enilit CMS could be used for building control systems in power plants, solar parks, oil platforms and wells, wind parks, large factories, hydro plants, substations, smart homes, and more.
Pricing
Pricing starts at 791 EUR per license.
Priced per protocols required.
CMS Gallery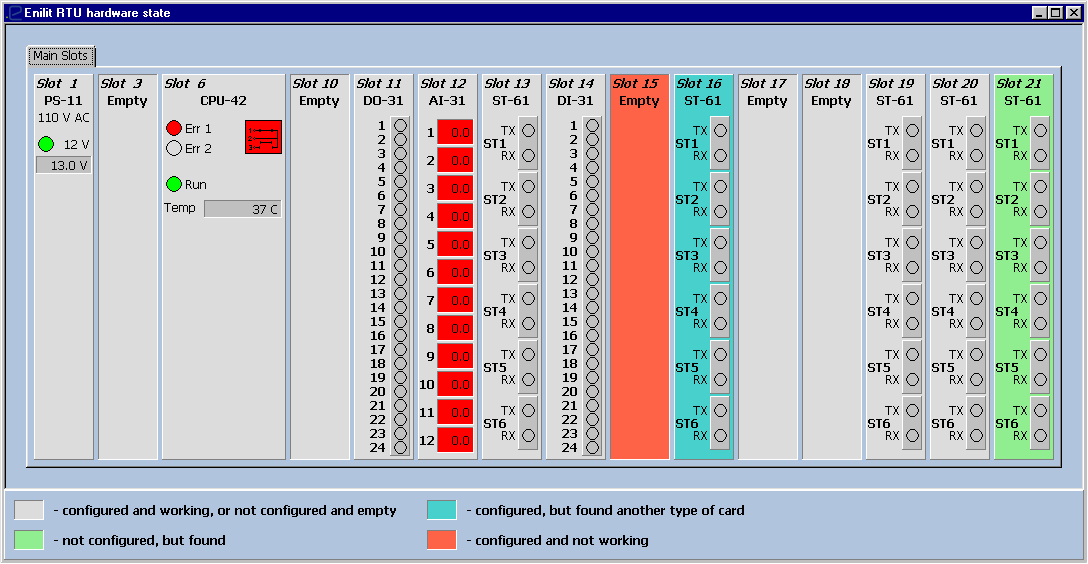 CMS Features
Windows-Based
Was developed to run on Windows OS for improved user experience and advanced functionality.
User-Friendly Interface
Quick and easy automation software configuration even for first-time users.
Online Server Configuration
All configuration takes place online, no reboot is needed for the new settings to take effect.
High-Level Cyber Security
Integrated security concepts that meet modern-day industry standards (data encryption, user authentication, signing, server protocol, and more).
Scalable Technology
CMS can store all the required information of your ever-expanding industrial devices network.
Redundant
For maximum safety, a second server can be created which will work redundantly with the main one. In case of the main server going offline, the second server will continue to collect and store all the important data.
User-Defined Branches and Tag Names
All branches and tags can be defined by the system administrator.
Ethernet-Based
Built to be integrated into existing Ethernet infrastructure.
Data Calculation, Logic
Simple internal data processing.
End-to-End
No need for additional software, CMS collects all the data from industrial devices and provides processed data to the end-user.
Simple Integration
Easy and straightforward integration of new devices.
High Interoperability
Vendor-independent and platform-neutral CMS operations allow to connect CMS to devices from different vendors, and access data whilst using different operating systems.
Fast and Reliable
Direct connection to all automation levels allows fast and reliable data transfer.
CMS Connectivity and Supported Protocols
The software was developed to support industrial devices based on the most widely used communication protocols, which ensures that Enilit CMS can collect data from and transmit commands to almost all industrial devices that use industry-standard communication protocols.
All acquired data can be accessed on a real-time basis or transmitted to other applications via local or remote connections.
Main supported protocols:
IEC 61850 Client ed. 2;
IEC 60870-5-101 Master/Slave;
IEC 60870-5-103 Master;
IEC 60870-5-104 Client/Server;
DNP 3 Serial Master/Slave and TCP/IP Client/Server;
Modbus Serial Master/Slave and TCP/IP Client/Server;
SPA-Bus Master/Slave;
RP-570 Master/Slave;
ICP DCON Master/Slave;
Other communication protocols upon request.
System requirements:
CMS can be installed on any industrial device running Windows OS (Windows 7 or later), even on the same device as additional end-user software.